Bring your outdoor hardscape ideas to life!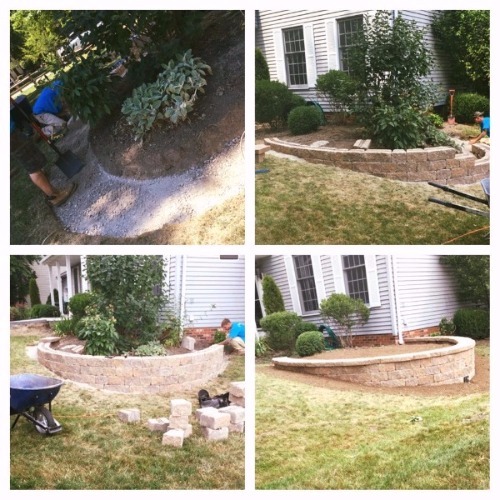 Hardscaping is the use of man-made and natural materials to improve your outdoor landscape architecture. Hardscape services can include many things such as custom patios, ponds & waterfalls, outdoor living spaces, landscape retaining walls and more.
When you hire Cleveland Yardscapes to bring your hardscaping ideas to life, you receive the highest quality of workmanship and materials. You'll have direct access to our team of experienced hardscape pros to plan and execute your project. We also work with many types of materials from man-made pavers to natural stone.
Please take a few minutes to view our gallery of work to see some projects we've completed. We are currently offering our hardscape services to the greater Cleveland area including Pepper Pike, Chesterland and all other surrounding areas in Ohio.
Examples of hardscape projects we've completed:
Custom patios, walkways & driveways.
Custom ponds & waterfalls.
Outdoor fire pits.
Outdoor living spaces.
Retaining walls.
Outdoor Living Spaces & Fire Pits
Who doesn't love the look of those custom outdoor living spaces with fire pits and seating walls? We definitely do and we also love to build them! With outdoor living spaces and custom fire pits, the sky is the limit. Our outdoor living spaces can be built exactly how you envision them with a slew of different materials and objects. Some popular elements of outdoor living spaces includes a custom outdoor kitchen, fire pits, built-in seating walls, embedded landscaping, lighting, audio and more! If you're interested in an outdoor living area, give us a call at (440) 708-6587 for a free consultation.
Custom Patios, Walkways & Driveways
Our custom patios, walkways, sidewalks and driveways add the beauty and elegance that standard concrete just can't touch! The materials we generally use for this type of project includes colored pavers that compliment your home, however, you may also choose to use natural stone for a high-end finish.
Ponds, Waterfalls & Fountains
The ambiance of using water with hardscaping delivers the relaxation and peacefulness that you strive for. Our ponds, waterfalls and fountains are perfectly matched to work with your existing landscaping and hardscaping elements. When working with water, we love to use natural stone for the structure and barriers as it is not only beautiful, but is also extremely durable.
Landscape Retaining Walls
Landscape retaining walls are used to highlight and/or contain a landscaping bed of different flowers, plants and mulch. In addition to decorative use, these types of retaining walls are great options on landscape beds that reside on a hill or incline, as well as outdoor living spaces that use planters or other landscaping to compliment. All retaining walls are custom built to your specific needs.
For more information about our hardscaping services, or to receive a free quote, please contact us.